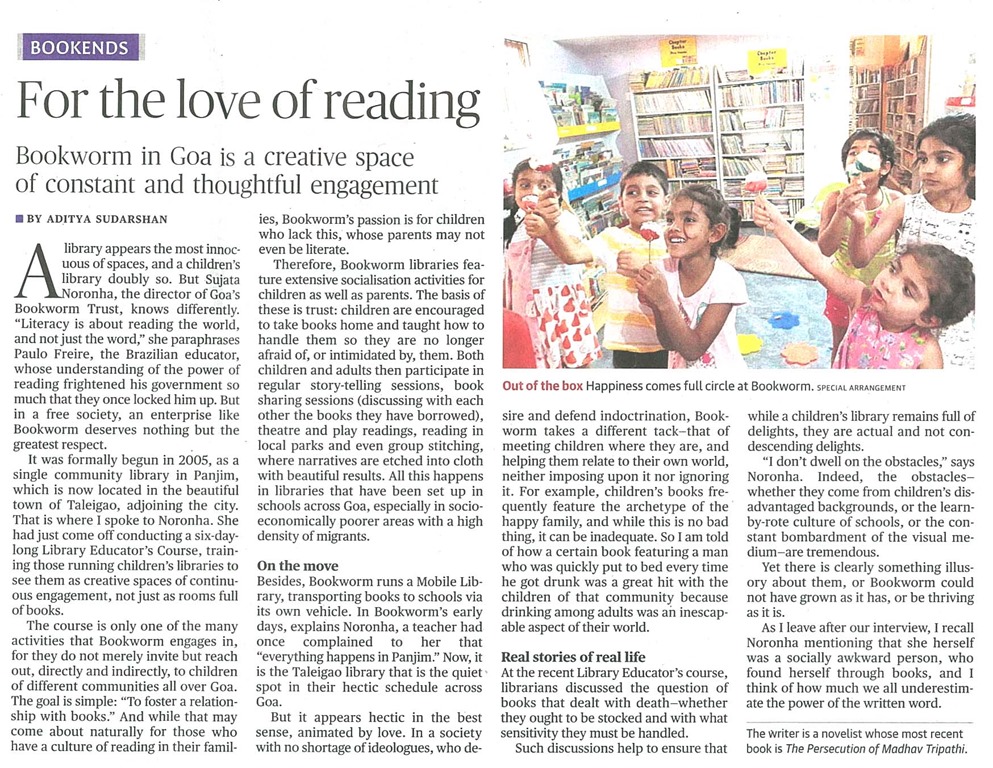 In the Press
Press feature: For the love of reading
Bookworm in Goa is a creative space of constant and thoughtful engagement
A library appears the most innocuous of spaces, and a children's library doubly so. But Sujata Noronha, the director of Goa's Bookworm Trust, knows differently. "Literacy is about reading the world, and not just the word," she paraphrases Paulo Freire, the Brazilian educator, whose understanding of the power of reading frightened his government so much that they once locked him up. But in a free society, an enterprise like Bookworm deserves nothing but the greatest respect.
It was formally begun in 2005, as a single community library in Panjim, which is now located in the beautiful town of Taleigao, adjoining the city. That is where I spoke to Noronha. She had just come off conducting a six-day-long Library Educator's Course, training those running children's libraries to see them as creative spaces of continuous engagement, not just as rooms full of books.
The course is only one of the many activities that Bookworm engages in, for they do not merely invite but reach out, directly and indirectly, to children of different communities all over Goa. The goal is simple: "To foster a relationship with books." And while that may come about naturally for those who have a culture of reading in their families, Bookworm's passion is for children who lack this, whose parents may not even be literate.
Therefore, Bookworm libraries feature extensive socialisation activities for children as well as parents. The basis of these is trust: children are encouraged to take books home and taught how to handle them so they are no longer afraid of, or intimidated by, them. Both children and adults then participate in regular story-telling sessions, book sharing sessions (discussing with each other the books they have borrowed), theatre and play readings, reading in local parks and even group stitching, where narratives are etched into cloth with beautiful results. All this happens in libraries that have been set up in schools across Goa, especially in socio-economically poorer areas with a high density of migrants.
On the move
Besides, Bookworm runs a Mobile Library, transporting books to schools via its own vehicle. In Bookworm's early days, explains Noronha, a teacher had once complained to her that "everything happens in Panjim." Now, it is the Taleigao library that is the quiet spot in their hectic schedule across Goa.
But it appears hectic in the best sense, animated by love. In a society with no shortage of ideologues, who desire and defend indoctrination, Bookworm takes a different tack—that of meeting children where they are, and helping them relate to their own world, neither imposing upon it nor ignoring it. For example, children's books frequently feature the archetype of the happy family, and while this is no bad thing, it can be inadequate. So I am told of how a certain book featuring a man who was quickly put to bed every time he got drunk was a great hit with the children of that community because drinking among adults was an inescapable aspect of their world.
Real stories of real life
At the recent Library Educator's course, librarians discussed the question of books that dealt with death—whether they ought to be stocked and with what sensitivity they must be handled. Such discussions help to ensure that while a children's library remains full of delights, they are actual and not condescending delights.
"I don't dwell on the obstacles," says Noronha. Indeed, the obstacles—whether they come from children's disadvantaged backgrounds, or the learn-by-rote culture of schools, or the constant bombardment of the visual medium—are tremendous. Yet there is clearly something illusory about them, or Bookworm could not have grown as it has, or be thriving as it is. As I leave after our interview, I recall Noronha mentioning that she herself was a socially awkward person, who found herself through books, and I think of how much we all underestimate the power of the written word.
The writer is a novelist whose most recent book is The Persecution of Madhav Tripathi.